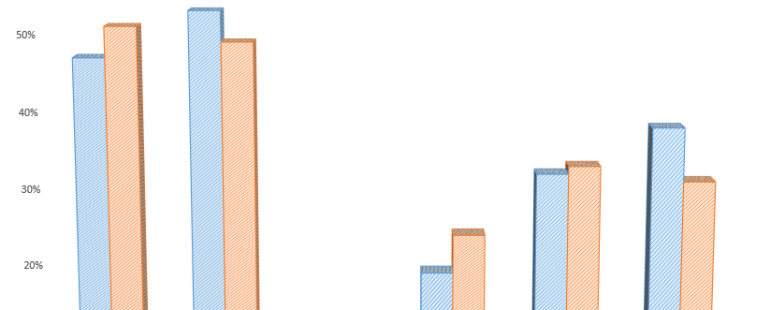 Are your videos being shared to the right audiences? If not, why not? We're going to quickly delve into some clever demographics to show you who the best are at sharing video are and why you should be targeting them. Yes, I'm talking optimising your video seeding channels, A.K.A, getting it to the people who are most likely to share your video.
At Tanglewood we've put together some research to help you out. This beautifully constructed piece of fact-finding we are calling our "4 reasons" and you definitely need to know this.
Reason 1: Men watch video more than women.

In pure, cold, hard, terms, male viewers are more frequent watchers of videos then their female counterparts, across the whole of the internet.
"But that's not relevant for me", you think, "my audience is all female." Fair enough, you won't like the above stat, but continue with me for a bit longer and you'll understand the value of this invaluable advice.
Reason 2: Young people watch more video than old people
Broadly speaking, young people, those from 15-34, are more frequent viewers of video then older groups – young people are your daily bread. Hold them close and nurture them, for they will pay you back in kind (with lots of video views).
Reason 3: Who watches your video shares your video
The wild, west, egalitarian nature of the internet shown in all it's beautiful colour!
Here we see how neatly the percentage of content sharers (in orange) sits against the percentage of actual online users (in blue). It actually pretty much says there is no difference between men and women when it comes to sharing content. This also correlates to how the real world works – i.e. nature favours no gender in terms of who shares material resources more, both men and women share and it's quite evenly spread.
MEN WATCH MORE VIDEO + YOUNG PEOPLE WATCH MORE VIDEO = YOUNG MEN WATCH MORE VIDEO.
IF, YOUNG MEN WATCH MORE VIDEO + SHARING IS EVENLY DISTRIBUTED AMONG SEXES
THEN…
Reason 4: Young men share more video
Young men, across the global internet population, will share more video. This is because they watch more! It's simple maths!
So what can you do to capitalise on this useful piece of video marketing strategy? Well try writing copy that you think young men will be into, make sure your headlines capture their stupid humour, their 'witty banter' or whatever it is these bulging, preening jocks class humour as nowadays. Get into the mind of the 20 year old male and sell your soul!
Ofcom recently wrote that, of "uses [of social media] more likely to be made by men compared to women… share video clips/content (23% vs. 12%)".
So fine-tune the copy surrounding your video, the tone of your landing page, the headline and the ad-copy to young men – but wait, I'm being slightly facetious here, you won't have to wear low-cut V-necks, chug whey protein or Neknominate yourself to drink a fish in a bowl of Jose Cuervo just yet…
The real take home of this piece is that just like the outside world, sharing is evenly distributed among genders. So if your target audience is overwhelmingly women just make sure that your content tries to reach them in a way that speaks to them, that makes them feel like you care about their custom. That's how you win.
---
Want to get more valuable advice from Tanglewood to increase your shares, likes, re-tweets and views? Our white paper will be available for purchase shortly, so keep your eyes peeled for future announcements. You can follow us on Twitter here, or link up to our RSS feed here. Alternatively, get in touch by email, we'd love to tell you what we can do for your company.